An irritable sensation, craving for fluid, a need, a desire, pleasure.. !!
Nothing is better, than a nice glass of wine after a long day at work, just sit down, put some music on and cracking the cork of good bottle, the kind of bottle that bring instant pleasure…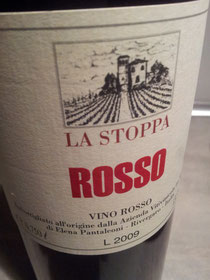 La Stoppa
La Stoppa is a 50 ha estate situated in Emilia-Romagna (North-West Italy), run since 1991 by Elena Panteleoni and her oenologue Guilio Armani.
Rosso 2009
Rosso 2009 is a blend of Barbera (60%) and Bonarda (40%) from 3 to 20 years old vine trees. The vineyard has been re-planted mainly with these two grapes in the 1996. Love it, straight from the opening, even if the wine by itself seems a bit aggressive. Deep open nose, concentrated plumy dark fruit, dark cherry, eupyreumatic notes. Soft attack, very pleasant on the palate, velvety but with a good bite, " Animal", a mature style of wine with a good freshness, pulpy with a good length.
Instant pleasure
A wine with instant pleasure, to drink with a friend in a rainy afternoon or to enjoy with a good beef stew or delicatessen and cheese and even by yourself after a long day of work with a good album ( for myself Happy Mondays).