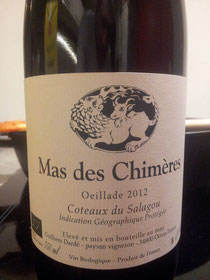 An irritable sensation, craving for fluid, a need, a desire, a pleasure... !!
They are some wines that need to be enjoyed with food. To be opened in the right moment with the right person, around a nice decorated table, with all the artifices needed to get it right!!! But for that, you will need to spend hours in a kitchen and you better choose a good companion to support you in this labour, and with this wine... Thirst will not be a Chimera!!!
I often drinking a glass (or more) of wine while I'm cooking. It's just like a habit or a ritual; getting all the ingredients, pan and utensils ready, put some music on and crack a bottle of wine. Knowing that you going to spend the next 3 or 4 hours confined in the kitchen, you'd better get a bit of energy and motivation to put down the load of work awaiting you. Of course, I usually drink the wine I'll serve with the food. That way you'll make sure the wine is good and ready (and no, it is not an excuse). Of course make sure some will be left for you guests, by politeness and not to be hammered when they arrive (it's already happened to me).
First the grape... !!!
Oeillade is a local name for Cinsault in the Languedoc-Roussillon. It probably founds its origins in Provence, but got many synonyms as Black Malvoisie, Gros marocain, Hermitage in South Africa, Piquepoul d'Uzès, Bourdalès etc, etc… It's also crossed in South Africa with Pinot Noir as the well known hybrid called Pinotage. Widely planted in the twentieth century for it's high yield, in 2006 it's been covering over 25000 ha in France.
Massive plantation on fertile plains damaged reputation, but Cinsault gives, on poor and dry soils some amazing fruity, soft and agreeable wine and some stunning Rosé.
Peasant winemaker
Mas des Chimères is situated in Octon, on Salagou lake bank. The Dardès family has been working in polyculture (ewes, olive tree and vines) for generations. But in the sixties the breeding is abandoned. In 1974 Guilhem join his father and his uncle and creates "Le mas des Chimère" in 1993. His wife, Palma starts to work with him in 1996 and they are joined by their daughter in 2008.
The domain is spread on two types of soils " Les Terres Rouges" where are produced the " vin de pays des Coteaux de Salagou" and Basaltic plateaus where the AOP/AOC Coteaux de Languedoc and Terrasses du Larzac are grown. The Mojo of the domain is to stay as close as the terroir can offer to them: they have abandoned chemical pesticides and fertilizers pretty soon and they are very proud of theirs AB certification.
Instant pleasure
I love Oeillade, it's a very good "thirst" wine. It's easy but with lots of aromas, depth and freshness. It's as we say " up to your face", you don't have to think for hours, it's just instant pleasure...!!!
This 2012 Oeillade from Mas des Chimère is pretty exceptional one. Firstly it's coming from old wine trees, at least 90 years old and secondly it's coming from a poor and dry climate. (You will usually find it on more fertile soils in Languedoc to get more production.) That brings a pretty good equation.
A deep open nose on red fruit, a bit earthy but delicate. You can feel the concentration of the old vines, (that was my first surprise, I was expecting something lighter), complex on primary aromas, with a hint empyreumatic notes, garrigue, black pepper, sweet spices. The attack is soft on palate "very gourmand". The only thing crossing your mind when you tasted it is: drink, a pour me more!!! (For me it was: -"shit , I need to buy more bottles of these"). A mellow mid palate, on ripe red fruit, jammy, a pure charm. The final is fresh and well balanced.
A stunning "easy drinking" wine for a good price (7.50 € on the French market). This Oeillade 2012 is one of my best cooking companion since but as well a good food matcher on light lunch.
Think Cinsault next time you are cooking.
An instant pleasure will scare away all Chimeras..!!!